Valentine's Rice Krispy Recipe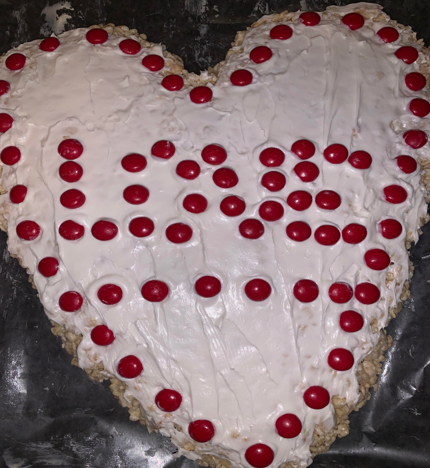 Ingredients:
3 Tablespoons of butter
1 Package of Marshmallows
6 Cups of Rice Krispy cereal
Prep Time:
10 minutes
Total Time:
30 minutes
Materials:
Clean hands!
1 Medium mixing
1 Non-stick  metal baking sheet
1 Small sauce pot
1 Spoon
Steps:
1.) Melt the butter in a sauce pan and add the marshmallow
2.) Melt the marshmallows in a small sauce pan, use medium-low heat so you don't burn the marshmallows.
(Try to get the least amount of air bubbles possible)
3.) Add the 6 cups of Rice Krsipy cereal to the melted marshmallow. Begin to stir the mixture together.
4.) Once you have added all of the cereal mix it together with either a spoon or your hands until it is the consistency of a Rice Krispy Treat. Pour into metal baking sheet and let it sit for 10-15 minutes…
5.)Enjoy!