Mrs. Boos
December Teacher of the Month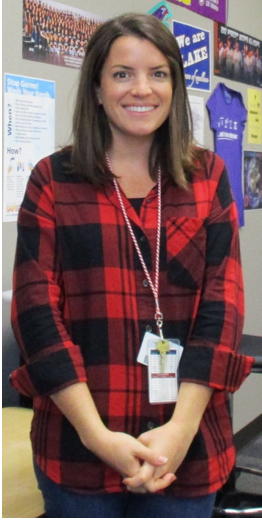 This month, we would like to recognize Mrs. Boos for being teacher of the month.
Q:How do you feel about being teacher of the month?
A: It is an honor, it makes me feel appreciated, I know everyone's has put work like parents, students, teachers, administration so it feels nice to be appreciated.
Q: What are your biggest accomplishments?
A: I think just making it, everyone's having such a rough year, its just the fact that we've made it to the first semester, I feel like that's an accomplishment.
Q: What are your goals?
A: I like for everyone to make an improvement this year, so that means that all students, regardless of what level they are if they are struggling a lot or if they are advanced or whatever I want everyone to make some sort of improvement because I feel like we are all somewhat a set-back last year.
Q: Did you expect to be teacher of the month?
A: No never!
Q: What motivated you to be a teacher?
A: I guess not what motivated me, but my favorite part would be just like the "Aha" moments when someone's struggling, and you know you are able to make that connection, that's a good feeling.
Q: Where would you like to see your students in the future?
A: Happy, and that has nothing to do with academics or anything I just want them to be happy.
Q: What's a challenge that you could face in the future?
A: I think a big fear of everyone Is that we are going to get shut down and that would be a challenge for everyone it would be a completely different scenario than in the spring I think we would need to have much higher expectations and that would be kind of difficult.
Q: What's your message towards your students?
A: Just go after what makes you happy whether that's not algebra or whether that's a certain career or being with your family, just do whatever makes you happy.