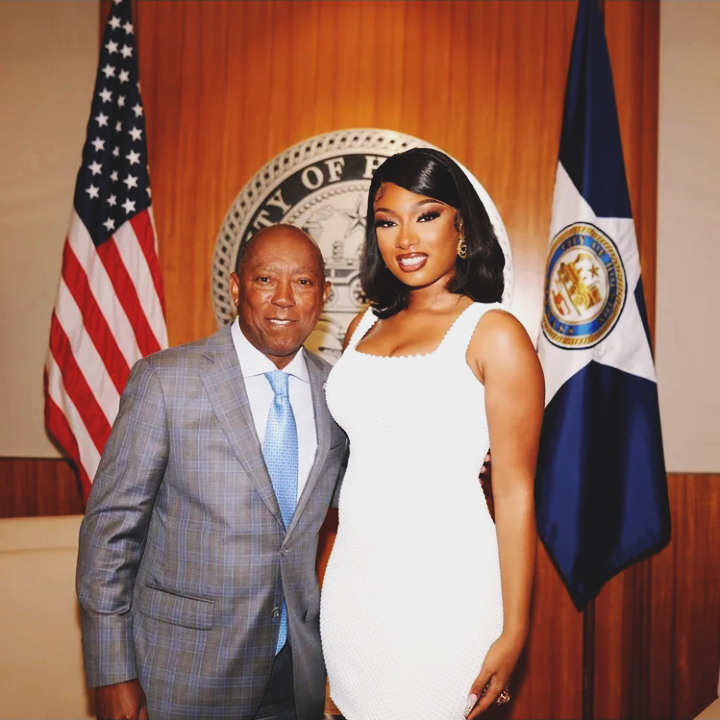 Photo from @theestallion on Instagram
Houston Mayor Sylvester Turner and city council members awarded Megan Thee Stallion with the key to the city. The mayor then declared May 2 was "Megan Thee Stallion Day" in Houston.
May 2 was chosen because it coincides with her mother and grandmother's birthdays.
"Megan Thee Stallion has an extraordinary entertainment career, but we wanted to honor her for what she does offstage to lift people's lives in underserved communities," Turner said. "She assisted people after the 2021 winter storm, during the pandemic, and helped those struggling with homelessness. I look forward to watching her grow as an artist and humanitarian."
Megan founded her non-profit Pete and Thomas Foundation to honor the memories of her mother and father, who she says "always instilled the importance of family, education and community."
According to its website, the mission of the foundation is to "catalyze resources to effect meaningful and positive change in the lives of women and children, senior citizens and undeserved communities in Houston, TX and across the globe."
The foundation focuses on helping others in the areas of education, housing, health and wellness.
"I will continue to give back to the city that made me who I am today," Megan said via Instagram.
Born Megan Pete on Feb. 15, 1995, the rapper came to fame in 2019 with the release of her mixtape Fever.She has released one studio album, one compilation album, three mixtapes, three extended plays and 38 singles.
This event was Megan's second return to the city in the last months. She also came back in December to receive her bachelor's degree in health administration from Texas Southern University.
"The most challenging thing about college was definitely staying motivated to finish because I was going through so many things and sometimes, I'll just be like, 'Man, forget all this. I just want to go hide in the corner. I'm stressed,'" Megan said. "I still kept my mom and my grandmother at the back of my mind. Before they passed away, they saw me going to college and they were really hard on me about finishing college, so I was like, you know what? I'm not just doing it for myself, I'm doing it for them too. I want them to be so proud."
Sources:
Pitchfork
Click2Houston
Rolling Stone
People
Pete and Thomas Foundation