Fall Dessert Recipes
Pumpkin Maple Cheesecake Bars: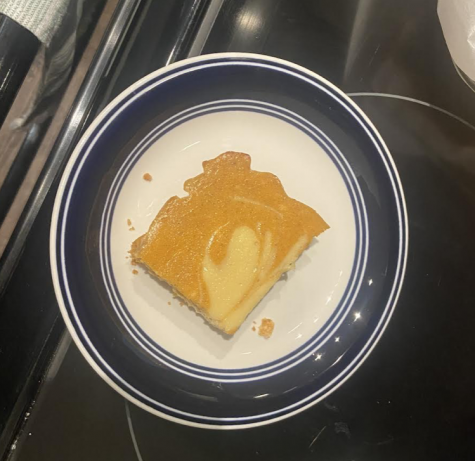 These creamy flavors all blend to make the most perfect cheesecake bar, settle down and
indulge. The total time to make this recipe is two hours and fifteen minutes and makes about
20 servings.
To begin you will need ½ cup unsalted butter, 10 oz gram crackers, 2 teaspoons sugar and ½ tsp.
kosher salt.
For the cheesecake assembly you will 4 large eggs, ½ tsp. kosher salt, 1 cup sugar, 24 oz cream
cheese, 8 oz. sour cream, ½ tsp. ground ginger, 1 ½ pure maple syrup and 15 oz can pumpkin
puree.
Reduce oven tempeture to 275. Beat the cream cheese in the bowl of a hand mixer on medium-
high speed until smooth for about two minutes. Add eggs, vanilla, sugar and salt, beat on low
and occasionally scraping the side of the bowl.
Scoop ¾ of the filling into a bowl for marbling later. Add sour cream, maple syrup, pumpkin
spice, ginger, pumpkin puree to batter and beat until there are no more streaks.
After everything, put the graham crackers in a baking pan and bake the cheesecake for 40-50
minutes until edges set but the center is still wobbly. Chill the cheesecake for about three to
four hours until it firms.
Apple Pie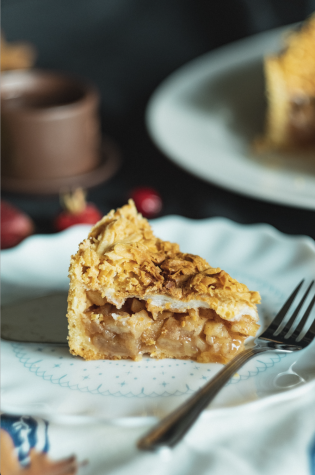 For this recipe you will need to make a crust which is 3 cups all-purpose flour, 1 cup butter. 2
tbsp. granulated sugar. ½ tsp. salt, 8 tbsp. ice water.
For this filling it is 3 ½ lb. apples, 2 tbsp lemon juice, sugar for sprinkling, 1 egg, 2 tbsp butter, ¼
salt, ½ tsp vanilla extract, 1 tsp ground cinnamon.
To make the crust you will place the flour and butter into the freezer before starting the crust.
In a food processor, pulse the sugar, flour and salt until everything is pea sized. Add vinegar
then ice water into feed tube, only one tablespoon at a time. Beat until the dough starts to
come together, moist, not sticky or wet.
Add dough to baking pan and cover with plastic wrap and refrigerate until dough is very cold,
maybe overnight.
Make the filling: in a large bowl, toss your apple slices with lemon juice, flour, sugar, cinnamon
and salt until mixed together. Dot it all over with butter.
Bake the pie: preheat the oven to 425, on the middle rack, grease your 9" -x- 1.5" pie dish with
cooking spray. Roll out your dough into 12" circle and drape over the apple pie filling, trim the
edges to 1".
Brush with egg wash and make six 2" slot in the center of the pie in the center. Sprinkle with
coarse sugar. Bake for 20 minutes, let it cool for 2 hours before serving.
Chai Cupcakes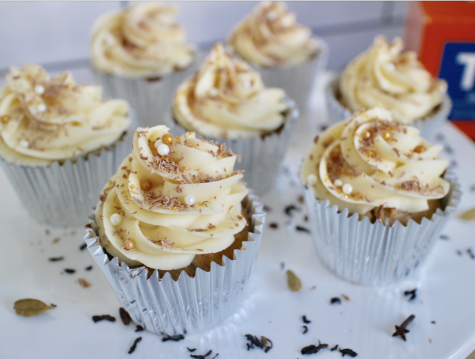 Your ingredients for this recipe include
one cup of sugar,
one large egg,
¼ tsp. salt.
2/3 cup of milk
1 ½ tsp. baking powder,
½ cup of melted butter,
1/8 tsp/ pepper
½ tsp vanilla extract
1/2 tsp of cinnamon,  ginger cloves and cardamon.
For the frosting you need six tablespoons of softened butter,
three cups of sugar,
¾ tsp vanilla extract
three to four tablespoons of milk.
Directions:
In a small bowl combine the cinnamon, ginger, cloves and cardamom but set the pepper aside.
In a bigger bowl cream the butter and cream until fluffy and light for about five to seven
minutes. Beat the egg and vanilla, combine the flour, baking powder and salt. Once that is done
combine creamed mixture with milk while beating.
In a large bowl beat the butter until very fluffy, beat in the sugar and vanilla and remaining
spice mixture to the bowl. Add enough milk until it reaches your desired consistency.