Creating Memories: Behind the Scenes of Yearbook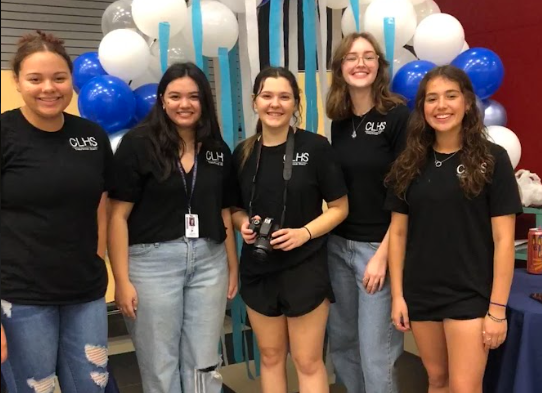 The yearbook staff is composed of 13 members and is led by teacher Mrs. Hawkins. The entire year they have been working around the clock all year to gather, record, and document the 2022-2023 school year.
Yearbook staff members have dedicated countless hours to creating the yearbook and with the end of the school year approaching, they are working hard to put the finishing touches on the final product.
"I feel it's going really good! We have a lot of pages left before our final deadline but I'm confident that we can finish it as long as we all just work hard," Editor Allison Poole Said.
Yearbooks are a common tradition among schools, and getting a yearbook is a moment many people enjoy. However, creating a yearbook is a big task that takes time and dedication from staff members.
"People really don't understand how much work it is, because they don't see," Poole said. "They kind of just think 'oh you just put pictures and write some things', but it's a lot more than that. It's a lot of organizing to keep things going well. It's just a lot more work than people think but then again, I enjoy it so it's not bad work."
One of the goals for yearbook staff this year has been to include as many people, and moments as possible to make the best yearbook that they can.
"The way I saw it (the goal) is just trying to include as many people as we can, and produce the best product that we can," Junior Sebastian Jaramillo said.
Members dedicate a lot of their time to attending and photographing different events, and while this can be a lot it's also a chance to experience and enjoy things from a different perspective.
"Being able to go to events and gather the photos for all the events that are at the school can get a little interesting because of all the different things that go on," Jaramillo said. "It just feels like a good experience to be able to do that."
Creating the yearbook has many benefits but there are also challenges that come with it such as meeting the fast-approaching deadlines.
"The most challenging part is probably just meeting deadlines because there's so many pages and we have a smaller staff so just meeting deadlines and getting all the pages done and to your expectations is the most challenging part," Poole said.
Despite the challenges, creating a memorable yearbook for the school to look back on is important to the staff.
"I feel like it's good to document a school history, especially a school like this that's been here for 50 years now," Jaramillo said. "I think it's good to look back about how things used to be and for the future of how things are going to be."