Their Goal is Stopping You
On the tough field with blinding lights shining on them and their teammates, the wind brushes their faces as they run around the field.
The junior varsity boys' soccer team practices does as much as they can as they await the Soccer district tournaments they have coming up.
They have their first district tournament on Jan. 26 against the Clear Brook Wolverines. They have beat them in the past, now they're hoping they can do it again. once they can do it again.
Out of their four games they have won two, tied one, and lost one. They beat Clear Creek four to two, Clear Brook eight to zero, tied Friendswood one to one, and lost one to zero to Elkins.
They are playing in their district tournaments the week of Jan.24.
"I'm excited to play and see what we can do," Sophomore, Axel Hernandez, said.
The team relies on their ability to communicate with one another so they can successfully execute drills.
"We all work really well together, and I think that's what makes us such a good team,"
Hernandez said.
According to Hernandez, some of the players are also friends outside of school. He believes this also brings the team together and makes them play more efficiently.
Our falcons have tried their hardest to win every game. The coaches put a lot of pressure on the players to be their best and play their best on the field.
They practice and train as much as possible. They have practiced every day other than their game days which are Wednesday and Friday.
Their practices after school last for 2 hours in which they are on the field doing as much as they
can to improve their drills and skills.
"Like every team and everyone we make mistakes, and we have things we need to improve
on," Hernandez said. "One of the things our team needs to improve on is not being scared to
make physical contact with people."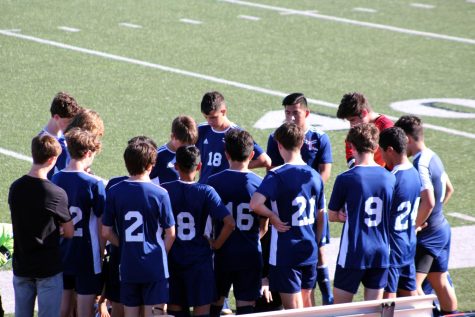 The team has areas that they want to improve on, they are aware of the mistakes that they
make.
"I think sometimes during the games some of us get nervous and start playing really bad because we are putting too much pressure on ourselves and then we mess up," Hernandez
said.
The coaches have a significant role in how the team does. The Coaches must push the players
to try their hardest when they are on the field.
"The coaches tell us we can play well, and we can only do well if we try to," Hernandez said. "It is true because if we don't want to play well, we won't be able to win."
According to Hernandez the coaches do a good job overall helping push the team to success.
The boys have played very well this season. They work well together and have amazing bonds
with each other. They have their district tournaments coming up and weLake cannot wait to see
what these boys do!